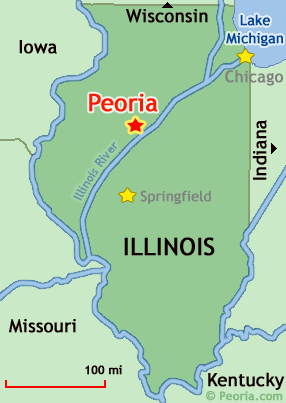 Peoria, Illinois Maps / Peoria, IL Directions:
Peoria is located in Central Illinois along the Illinois River, about midway between Chicago and St. Louis.

(Coordinates: 40-43'15"N, 89-36'34"W)
Use the interactive mapping web sites below for a detailed map of the Peoria area:
Use the link below to explore an interactive map of the different neighborhoods in Peoria:
Map of Peoria Neighborhoods
Peoria's Location in the United States: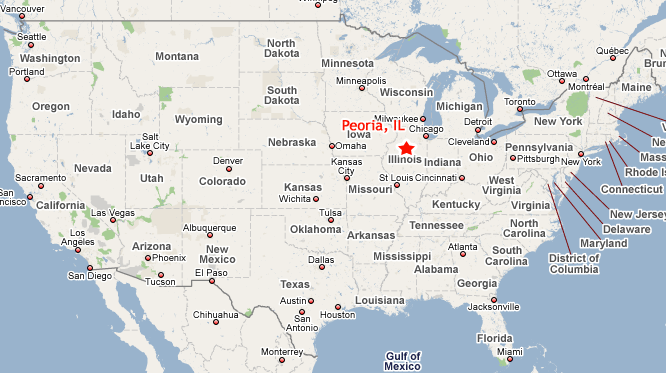 | | |
| --- | --- |
| | |
posted Oct. 6th, 2015 - 11:58am
western+moss ave says:
i want a response from city asap
thank you
this is not a justified ticket

posted Oct. 6th, 2015 - 11:57am
western+moss ave says:
intersection, speed coming up western is 35, if you don\'t have to stop before turning onto moss, you\'ll be in for rude awakening because as soon as your on moss a radar cop on motorcycle will stop you, give you a ticket that will cost you $120 and issues w/ your car insurance for 4 yrs. there should be speed zone ahead and time to slow down, say maybe at least a block to keep from being run over by traffic, this sweet spot is a great revenue generator for city. people from out of town like myself will be caught off guard by this abrupt speed change( trap). This is a very bad situation if you\'re from out of town and on senior income. i will send copy of ticket and work w/ city to correct this awful situation. this cop was running radar as you came around corner before you could do anything to comply with zone. It\'s not right to do people like this. why do you think people don\'t respect radar cops? this is a good example of why. It\'s got wrong written all over it.

Add a Comment: