Peoria Restaurants
Add a Restaurant Review
Search Restaurants
My Favorite Restaurants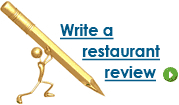 Browse Recent Reviews
Volunteer: Rate Restaurants!
Add a Restaurant
Restaurants in Peoria IL
Peoria IL Restaurants:
Comprehensive LOCAL guide to restaurants and dining in the Peoria Illinois area. Bringing you restaurant photos, online menus, and restaurant ratings and reviews.
Popular Categories:
Pizza
,
Bars
,
Chinese Food
,
Coffee
,
Mexican
,
more...
| | |
| --- | --- |
| | Browse Peoria Restaurants by Category: |
Top Rated Peoria Restaurants:
Recent Peoria Restaurant Searches:
old style
,
alexanders
,
chilli
,
colachi
,
bogarts
,
seafood
,
kickapoo
,
panera
,
sushi
,
pastrami sandwhiches
,
biaggies
,
b
,
fox pub
,
obit and isaacs
,
, heights
,
claim jumper
,
bogarts' restuarant
,
meadows
,
pizza
,
poboys
,
fresh table cafe
,
fairview farms
,
wings
,
baiggi
,
burger bar
,
cheese cake factory
,
jim's
,
wing stop
,
barb b que
,
ifth
,
christmas day
,
outback steakhouse
,
barbecue
,
rookies
,
childers eatery 1
,
on west lake avenue
,
sapphire
,
firehouse
,
chinese
,
jim's steakhouse
,
dairy queen
,
connected
,
blue duck tavern
,
jimmy johns
,
childer
,
a
,
sazanis
,
3805 n hambloft1
,
tgi fridays
,
logans roadhouse
,
outback steak
,
outback
,
red lobster
,
olive garden
,
texas roadhouse
,
italian in heights
,
farm to table
,
m
,
smokin notes
,
berry
,
dunlap restaurants
,
applebee's
,
sapphire restaurat
,
taco bell
,
steak
,
family dining
,
saly
,
e
,
mcalisters
,
corner stone
,
asian
,
armando
,
k
,
pku
,
p
,
pin
,
by the airport
,
pepper
,
in heights
,
open at 10:30 a
,
ming
,
german
,
blue dot
,
hamburger
,
braskys
,
chennai
,
t
,
pub food
,
river b
,
edge in heights
,
bratsky's
,
two chez
,
galley
,
fresh table
,
brewery
,
saphire restraunt
,
voo doo
,
khaki jack's
,
fish house
,
tilted kilt
,
cupcakes
,
buffets
,
goat
,
coupons
,
tgifriday il